The past two weekends have been jam packed with opportunities to actively participate in the childhood caner community.
CureFest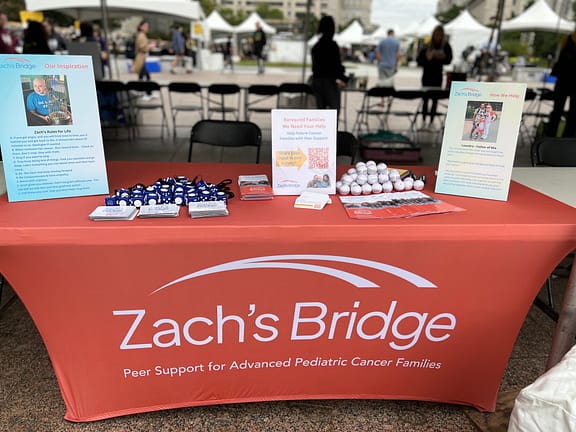 We started out at our first ever childhood cancer conference, CureFest, on September 22-24 in Washington DC. This is the largest gathering of childhood cancer nonprofits, fighters and advocates in the world – as least as far as we know. The event was shaped by a decent size rain storm this year, forcing activities that normally would be outdoors to moved inside. Regardless, it was a great opportunity to meet people we've connected with in the community face to face for the first time, and meet a whole new group people that are trying to shape the course of childhood cancer just like we are.
We really didn't know what to expect, but overall, it was a wonderful experience to be able to connect with so many, talk about what we've been through, and share Zach's Bridge with many groups and attendees. We thought the experience was invaluable, and hope to be able to spend more time at the event next year.
The most moving part of the conference that we saw was the Angel Wall, and you can see a video of it, at the link below. It's just too long….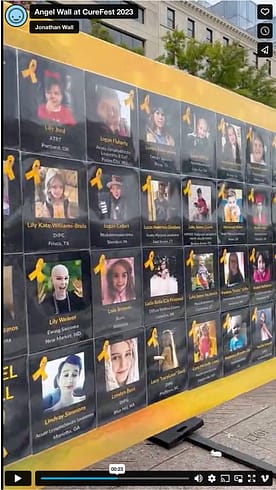 Special shoutouts to Melissa Jackson and the CAC2 team, Mariah and Carolyn from the Gold Together crew, Jess and family from Rett's Roost, Mark Levine from the Hope and Help Happens Here podcast, Ginny, Al and Patti from Gift from a Child, Lisa Ward, Lynda Poole and so many others for making our time so very very meaningful and valuable.
The Jimmy Fund Walk
The Jimmy Fund Walk has raised tens of millions of dollars over the years to help Dana-Farber support patients, families and conduct valuable research. This year, thousands of people walked parts of the Boston Marathon route to do it again. And we joined a team that raises funds specifically for pediatric palliative care, and included many of Zach's caregivers. Now, it's a bit weird that we were fundraising for another organization, but the Jimmy Fund and the Pediatric Palliative Care Team (PACT) is so connected with what we are doing that this just feels right.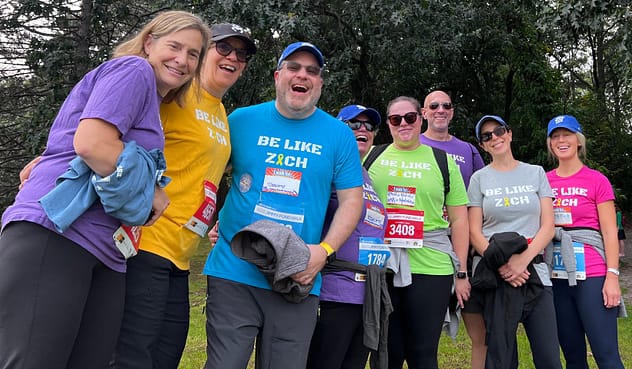 We walked as a sub-team of our larger team – and felt that it was most appropriate to wear our "Be Like Zach" shirts with the slogan we learned from him – "Keep Moving Forward." We are grateful to have been joined by Meg and Cory for the 2nd year in row, and adding first timers Joe, Deb, Denise and Kate. We hope you will all be back next year. You all are rock stars! And thank you to so many people that supported our group with amazing donations. As of this writing, we had helped propel our overall team to be a top 20 fundraising team. And we look forward to an even larger crew next year. Let us know if you want to walk with us.
It was a beautiful day and we trekked 10k (about 6 miles all in) as a group, bumping into people we knew along the way including Prabal, Vanessa and family, Mark Levine (again – that guy is everywhere), and a connection of Jenn's from one of her work/volunteer experiences. Ming Tsai remembered us from the amazing private dinner he did for Zach with Ken Oringer, Dave Barzigan and Jay Hajj. Special thanks goes out to Chelsea, Marsha and Venus from our overall team, Kessler's Crew / PACT Pack – you are amazing captains!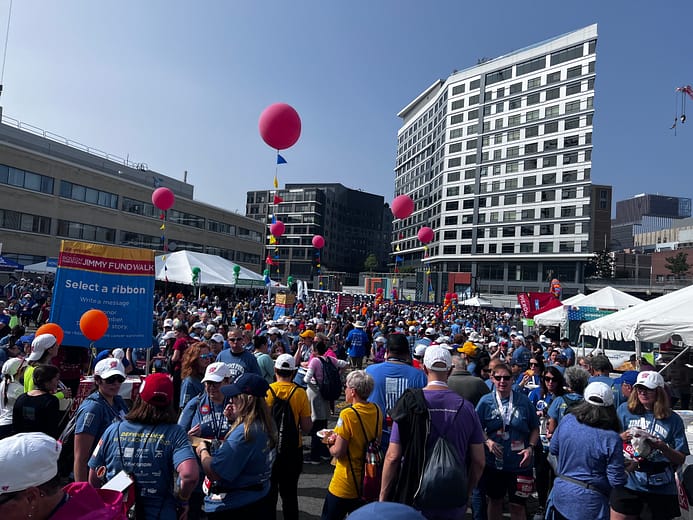 Seeing so many people uniting at both of these events for such an important cause is, heartwarming and also gut wrenching. We all just wish it didn't take an army to make a difference. And while progress for childhood cancer is a tough fight, seeing how many people are working in the Boston area, and through so many amazing organizations, or as individual or family fighters and advocates everywhere else give us strength and hope that in the future, people won't have to face what we did.