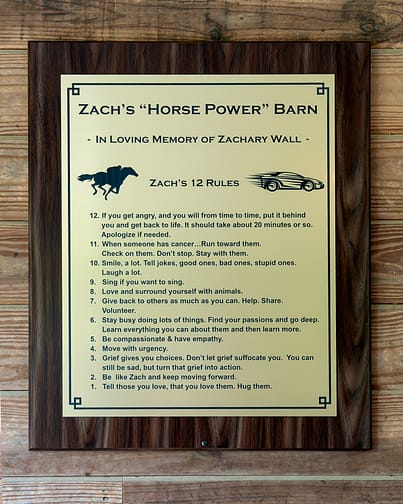 The idea for Zach's Rules was to try to turn all the horror, pain, sadness and grief into something that others could grab onto and take away from this awfulness and be able to apply the lessons we learned from Zach and his journey to improve their relationships and their lives. The hope is that they could help someone think differently about themselves and their world, and maybe change just a bit to make themselves and or the world just a bit better.
We first shared 9 Rules on November 11, 2021 at Zach's celebration of life.
Gradually, over time new Rules emerged, and while we usually only cover 9, we have versions of Zach's story that have included as many as 12 and as few as 3.
The 9 that we cover the most frequently are below.
9. If you get angry, and you will from time to time, put it behind you and get back to life. It should take about 20 minutes or so. Apologize if needed.
8. When someone has cancer…Run toward them. Check on them. Don't stop. Stay with them.
7. Sing if you want to sing.
6. Stay busy doing lots of things. Find your passions and go deep. Learn everything you can about them and then learn more.
5. Be compassionate & have empathy.
4. Move with urgency.
3. Grief gives you choices. Don't let grief suffocate you. You can still be sad, but turn that grief into action.
2. Be like Zach and keep moving forward.
1. Tell those you love, that you love them. Hug them.
And the others that are just as important, are below
Smile, a lot. Tell jokes, good ones, bad ones, stupid ones. Laugh a lot.
Love and surround yourself with animals.
Give back to others as much as you can. Share. Volunteer.
Say Please